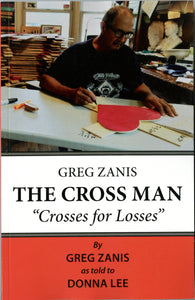 Greg Zanis The Cross Man "Crosses for Losses" by Greg Zanis as told to Donna Lee
"It has become a familiar sight over the past two decades, all across our nation following a tragedy, the timely appearance of wooden crosses memorializing the victims. In each of these affected communities, the display of crosses immediately becomes a focal point for grieving and remembrance, and eventual healing.
These memorials come into being through the efforts of one man -- Greg Zanis of Aurora, Illinois.
...shying away from the limelight, he always says that the story should not be about him, but about the victims.
This book pulls back the veil just a bit, giving us a peek at the man himself..."
John Jaros
Executive Director
Aurora Historical Society
----
Paperback
----
Please note that due to high demand, orders may be delayed based on inventory availability.  Orders will be shipped as soon as inventory allows.  We apologize for any inconvenience.
Published by Greg Zanis and Donna Lee, proceeds directly support the Zanis family.