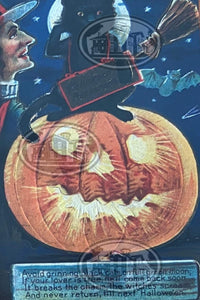 Halloween Postcard - Black Cat on Jack-o-Lantern
A vintage artwork Halloween postcard -- a black cat on a jack-o-lantern with a witch on looking.
"Avoid grinning black cats, on full green moon.  If your lover is true, he'll come back soon.  It breaks the charm, the witches scream, And never return, till next Hallowe'en." 
Watermark for display purposes only.  The physical postcards do not include the Aurora Historical Society watermark.