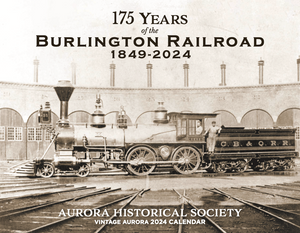 Vintage Aurora 2024 Calendar -- 175 Years of the Burlington Railroad
Vintage Aurora 2024 Calendar -- 175 Years of the Burlington Railroad

The calendar uses images chosen from hundreds of railroad-related
pictures in the Historical Society's collections to celebrate 175 years
of the Burlington Railroad, which was chartered in February 1849 as the
Aurora Branch Railroad.  The images date from about 1857 to 1976, with
most in sepia tone and a handful in color.  Every year, the Historical
Society chooses a different theme and pictures for its "Vintage Aurora"
calendar.